Heroes of Lawson Staff
Heroes of Lawson Staff: Hung Chia Ching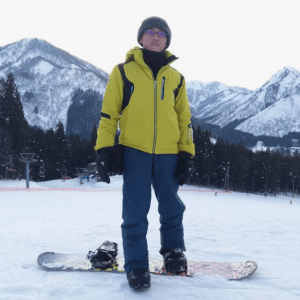 Please introduce yourself briefly.
My name is Hung Chia Ching, I'm Taiwanese. I'm 26 years old. I arrived in Japan on August 23rd 2018 on a working holiday visa and I'm planning to go home on August 15th 2019. For the past year, I've been living in Tokyo.
What made you want to move to Japan?
I studied the Japanese language in high school and acquired the N2 level Japanese language proficiency certificate when I graduated. I felt like I had the knowledge to work in Japan and I also wanted to travel. I was able to make a trip to Niigata and Nikko this year. Both places were fantastic. The first time I ever saw snow in my life was in Niigata. I tried snowboarding and spent some time in an outdoor onsen while watching the snowfall. These are experiences that I will never forget.
Do you have any plans for the future? Do you have a dream?  What kind of image do you have of your future self?
I've wanted to join the army ever since I was a kid, but my family is heavily against it. I think I have the personality to have a demanding job like this. Also, we don't have many soldiers in Taiwan and I want to help my country. For the time being, I will probably help out in the restaurant that my family is running.
Why did you choose to work at Lawson and how did you find us?
I heard about Lawson Staff and temporary staffing from a friend of mine in Taiwan and it caught my interest. Working at Lawson Staff has a sense of freedom for having the ability to decide when you want to work, so it's highly convenient for people who want to travel – it doesn't matter if you want to take a week or two off.
What do you think about Japanese work culture? How is it different from your home country's?
There is an established image worldwide that Japanese people are incredibly hard-working and their working conditions are strict. However, since I received the opportunity to work here, my experiences were a little different from this image. For example, it was a great shock to me to see that not everyone is always hard-working – there were actually some people slacking off while on their shift.

It's also said that Japanese people do overtime every single day, but I've never had to do this during the 1 year that I've been working here. Maybe this is thanks to Lawson Staff.
What is your relationship like with your colleagues and bosses? How did they welcome you?
My colleagues, both Japanese and other foreigners, all welcomed me with immense kindness and taught me everything about work wherever I went. Many of the foreign staff I met came from Nepal and I got along with them very well.

There were even some colleagues whom I was planning to go with to Niigata and Nikko, but unfortunately, we couldn't align our schedules accordingly. I'm still grateful even for the thought that they wanted to accompany me on my trip.
If there is a story or a memory you are fond of about any of the Lawson stores you have worked for so far, please share it with us.
I will always look back dearly to all of the store owners who told me, "please come and work in this store again soon."
Would you recommend Lawson as a workplace to other international people, too?
Yes, absolutely. However, I think you need at least a language proficiency level of N3 or above in order to be able to work properly. I would not recommend this job for someone who wants a general 9 to 5 job, but for people whose primary goals also contain travelling.

Since I live in Tokyo, I have worked in several different Lawsons at different locations. Before or after my shift, I always went to discover the tourist spots of each area I had to work in – like Odaiba or Kichijoji. Since transportation fees are reimbursed by Lawson Staff, it's basically free.
We are always welcoming more Heroes in our team. Want to join us?
Click the "Apply" button below!