Heroes of Lawson Staff
Heroes of Lawson Staff: Hung Yi Thing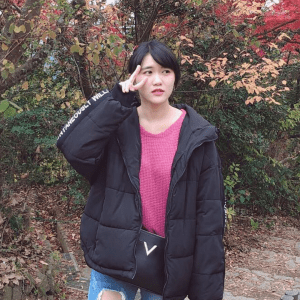 Please introduce yourself briefly.
I'm Hung Yi Thing. I'm 22 years old. I'm coming from Taiwan and currently living in Japan, Tokyo. I've been a Japanese language school student since April 2019, but before that, I was on a working holiday visa for an entire year.
What made you want to move to Japan?
I've been a fan of Japanese traditional culture and cuisine for a very long time. I also travelled here and there before I moved to Japan – I've been to Okinawa, Kansai and Hokkaido – and I thought it would be nice to live here. This is why I applied for the working holiday visa originally.
Do you have any plans for the future? Do you have a dream?  What kind of image do you have of your future self?
After I finish the 1-year course in the Japanese language school, I'm planning to continue studying. I would like to pursue a career in design, so I'm looking at different vocational schools to sign up for in order to learn more and achieve that. It has been a dream of mine for a long time to become a graphic designer at a trendy magazine. Also, I'm enjoying my life in Japan so much right now that I would like to stay and build a life here.
Why did you choose to work at Lawson and how did you find us?
A Taiwanese employment agency that targets people who would like to try the working holiday program introduced Lawson Staff to me.

I've had work experience in the service industry before (I used to work for a café) and I wanted to improve my Japanese, so I decided to look for a job in the service industry in Japan as well. In this field, there is great emphasis put on communication with customers, so it's the perfect opportunity to practice speaking in Japanese. Compared to a factory, for example, where you don't really talk much while working.
What do you think about Japanese work culture? How is it different from your home country's?
People say that Japanese work culture is based on many strict rules, but I don't think that's a bad thing at all. If proper rules exist, that means the employees will also progress with their work accordingly. Based on my experience, in Taiwan, work related processes are often not made 100% clear for employees, which results in chaotic situations.
What is your relationship like with your colleagues and bosses? How did they welcome you?
All staff members I've met so far have been extremely kind to me, I get along well with them. Besides Japanese colleagues, I also have other foreigners working with me, so I got to know many interesting things about not just Japan, but other countries as well, like Vietnam or Korea.
Each store owner welcomes me warmly whenever I enter a new store while explaining thoroughly about work and rules and showing me around.
If there is a story or a memory you are fond of about any of the Lawson stores you have worked for so far, please share it with us.
I think back on the kindness of some store owners fondly. I have often received free food and beverages from them. There was one time when I had to go to Saitama for work and when my shift ended, the manager kindly offered to take me to the train station by car, since it's approximately 30 minutes by foot to get there. That was nice of him.
Would you recommend Lawson as a workplace to other international people, too?
Yes, for sure. Since you get to decide your own working hours completely freely, it's extremely convenient for people who are planning to travel around. It's also great for Japanese language practice. On another note, if there is anyone who has any worries about the job contents, the teachers and trainers of Lawson Staff teach you everything from start to finish, so there is absolutely nothing to be scared of.
We are always welcoming more Heroes in our team. Want to join us?
Click the "Apply" button below!