Heroes of Lawson Staff
Heroes of Lawson Staff: Ho Man Yee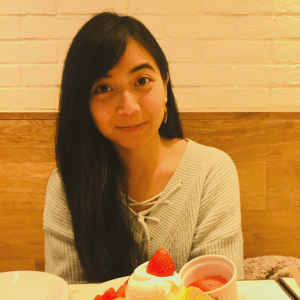 Please introduce yourself briefly.
I'm Ho Man Yee, 24 years old. I'm from Hong Kong, residing in Tokyo from April 2018. I'm studying translation at a Japanese vocational school. After I graduate, I would like to stay in Japan and find a permanent job here, if possible.
What made you want to move to Japan?
My mother was working in Japan for 5 years when I was a child, and we visited her with my dad every year in the summer. I got fascinated by Japan and its culture at such a young age – I've found the food delicious and the landscapes mesmerizingly beautiful. The everyday Japanese lifestyle greatly differs from Hong Kong's as well, which I always found interesting and wanted to indulge in myself. Therefore, I started considering later that I would like to live here one day.

After I graduated from my university back home, I also realized that I don't want to commit myself to a permanent job in Hong Kong right away, so I thought that this would be the perfect time to visit Japan again and try to see what life is like over there.
Do you have any plans for the future? Do you have a dream?  What kind of image do you have of your future self?
After I finish my translation course in the vocational school I'm currently attending, I would like to find a job as a translator for a company. My plan is to stay in Japan for the next 10 years in order to get used to not just Japanese culture in general, but the work culture of different fields as well.

Once I feel that I could live my life here to the fullest and my Japanese language knowledge is also at the level I desire it to be at, I would like to own a business in the future – this is my long-term goal. I'm mainly thinking of opening a Chinese restaurant or a convenience store somewhere. I think that 10 years from now is a reasonable and realistic time span in order to make this dream come true.
Why did you choose to work at Lawson and how did you find us?
Following my university graduation in Hong Kong, I was already planning to sign up for the vocational school, but I didn't know how I was going to support myself or what kind of job it would be best to do while studying. So, I went to a job fair where there were many-many agents willing to introduce different kinds of companies that were eager to employ international students in Japan. Lawson Staff was the first company I was introduced to.

The agent told me that working in a convenience store would be a good start for getting used to Japanese work culture since it's not a difficult job, and it's also good for practice if your Japanese is not that great in the beginning. For me, working in different stores almost every time is also a plus, since going to locations of all kinds helps me get to know Tokyo on a deeper level.
What do you think about Japanese work culture? How is it different from your home country's?
In Hong Kong, communication is key, but even if there are mistakes made, people don't really make a big fuss about it. I would say that the working culture is laid back, a bit American-like in certain aspects. While in Japan, they make extra sure that everything is in order all the time – confirmation is necessary and taken incredibly seriously at all points of work progress. Japanese people are very careful even about the most basic things, which is not necessarily a bad thing, but it can sometimes be a little overdone. Proper greetings in different occasions are crucial as well – I like that a lot.
What is your relationship like with your colleagues and bosses? How did they welcome you?
The overall image of my colleagues is positive for me. Whenever I go somewhere new, they show me around and explain all rules and instructions thoroughly and with great care, making sure I understand everything. Communication is also going smooth at workplaces, so I can consult about everything with everyone.
If there is a story or a memory you are fond of about any of the Lawson stores you have worked for so far, please share it with us.
I remember there was an old lady one time who came in and bought all kinds of things – everyday groceries like milk or bread, and some sweets, too. After she finished paying for her items and received a bag full of the goods she has just purchased, she pulled out the candy pack and gave it back to the cashier. We didn't understand why she was doing that, so we asked if there was anything wrong with it or if she changed her mind about buying it, but then she just said, "this is for you and your colleagues".

I think this was one of the most surprising and heart-warming things that has happened to me since I've been working for Lawson Staff. I've never really experienced something even similar to this before.
Would you recommend Lawson as a workplace to other international people, too?
Yes. I think it's a great starter for people who have yet to get used to Japanese work culture in general. If you are planning for a longer term in Japan, I would recommend getting familiar with the working style at a place where tasks are easy to learn and you can also improve your language abilities – like a convenience store. Even if you have different outlooks for the future, it will provide you a good base for your next job.
We are always welcoming more Heroes in our team. Want to join us?
Click the "Apply" button below!