Heroes of Lawson Staff
Heroes of Lawson Staff: Park Koeun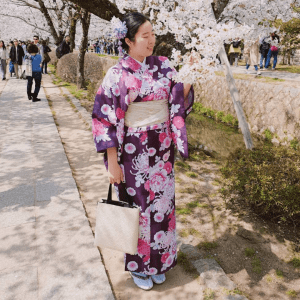 Please introduce yourself briefly.
My name is Park Koeun, I'm from South Korea. I'm 22 years old, turning 23 very soon.
I currently live in Tokyo and I came to Japan with a working holiday visa in August 2018.
Almost 1 year has passed since then and I can't believe I'm going home in a few weeks. Time surely flew by.
What made you want to move to Japan?
I mainly had two motives when deciding on coming to Japan: taking a break from university and challenging myself by living in a foreign country. When I was younger, I used to like Japanese idols a lot and studied Japanese language for 2 years; I was somewhat familiar with Japanese culture, too. Also, Japan is very close to Korea, so it seemed like a good choice.
Do you have any plans for the future? Do you have a dream?  What kind of image do you have of your future self?
I was studying acting at university originally. When I return home to Korea, I would like to have a job related to musicals, and in the future, I would like to perform in musicals if possible.
Why did you choose to work at Lawson and how did you find us?
I read about Lawson Staff first on a Korean blog that contained all kinds of details in connection with Lawson. What caught my attention about Lawson Staff was the possibility to manage your working hours however you want.
What do you think about Japanese work culture? How is it different from your home country's?
Part-time jobs in Korea are a challenge to manage timewise. Most places offer a set time frame you can work in, probably at the same hours every day, so it's hard to find something that fits in to your schedule perfectly, especially for a student like me. But in Japan, especially at Lawson Staff, as I have already mentioned earlier, you get to decide when and how you want to work. I also find it incredibly helpful that employees' transportation fees are reimbursed by most companies in this country.
What is your relationship like with your colleagues and bosses? How did they welcome you?
Unfortunately, I work in different Lawson stores all the time, so I couldn't really make friends with any of my colleagues that much. However, whenever I go to a new store, all employees and store owners have been kind to me so far, teaching me everything about the job with great patience.
If there is a story or a memory you are fond of about any of the Lawson stores you have worked for so far, please share it with us.
There is one particular store that I went to work at quite a few times. The manager always paid a lot of attention to me and made me feel welcomed. One day he got relocated to a different store, and I couldn't even say "Thank you" or "Goodbye" to him. I'm a bit sad about that, but I will always remember how kind he was to me.
Would you recommend Lawson as a workplace to other international people, too?
Yes, I would!
We are always welcoming more Heroes in our team. Want to join us?
Click the "Apply" button below!