Heroes of Lawson Staff
Heroes of Lawson Staff: Lu Xuefei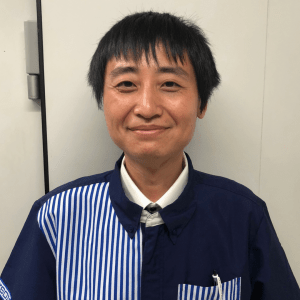 Please introduce yourself briefly.
I'm Lu Xuefei from China. I came to Japan in April 2018. I'm attending a Japanese language school while also working as a member of Lawson Staff. Thank you for having me.
What made you want to move to Japan?
My main hobbies include watching anime, reading manga, and playing Japanese video games ever since I was a high school student. I'm also deeply interested in Japanese culture and I've been studying Japanese language for a while as well. I've always thought that it would be nice to go to Japan and experience what it's really like in real life, looking out from behind the comics and TV shows. So, I decided to search for an international student program where I could improve my language ability and sign up for it – this is how I managed to come here. I passed the N1 level of JLPT in December 2018, so I think my studies at the language school I've been going to have been fruitful.
Do you have any plans for the future? Do you have a dream?  What kind of image do you have of your future self?
After I graduate school in March 2020, I would like to start working in Japan. My biggest goal is to own a Lawson store all by myself in the future.
Why did you choose to work for Lawson and how did you find us?
I got to know about the job opportunity from my school and through various recruiting campaigns, but I've heard about Lawson beforehand, so I had a sense of security about the company.
What do you think about Japanese work culture? How is it different from your home country's?
Since I've already known quite a few things about Japanese culture before moving here – including work culture – there weren't many things that surprised me or things I thought of as weird when I started working. I think that the work culture of the region I come from in China is similar to Japan's, so that could also be a reason why I don't think its rules are strict, even though a lot of people say they are. 

I've only noticed one difference that caught my attention: how each country responds to a mistake being made. In the case of Japan, they will look for the cause of the mistake very thoroughly and make sure that it never happens again by confirming the working steps with the staff member numerous times regularly. However, I haven't experienced such a thing when I was still working in China.
What is your relationship like with your colleagues and bosses? How did they welcome you?
I don't really keep in touch with them outside of work, but I'm trying my best to get along with everyone. All my colleagues have helped me a lot and taught me many-many things with kindness and patience, so I'm grateful for their support.
If there is a story or a memory you are fond of about any of the Lawson stores you have worked for so far, please share it with us.
I think back to the shift I did in the Lawson store of the Comic Market venue nostalgically.
It was a busy day and I couldn't really talk to anyone because I was working as a staff member, but I was determined to do my job as smoothly and quickly as possible for the sake of the event participants who share the same hobby as me. I really wanted to do my best, so work was a lot of fun.
Would you recommend Lawson as a workplace to other international people, too?
Yes, I would for sure.
We are always welcoming more Heroes in our team. Want to join us?
Click the "Apply" button below!