Heroes of Lawson Staff
Heroes of Lawson Staff: Amirah Nasuha Binte Maznan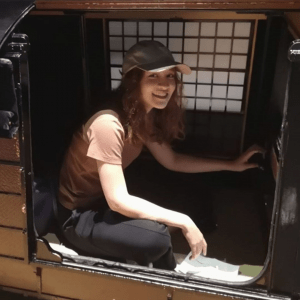 Please introduce yourself briefly.
Hello, my name is Amira. I'm from Singapore, turning 23 years old this year. I play video games in my free time, but I also like to make sure I get enough sleep for a hobby.
What made you want to move to Japan?
I thought learning Japanese was going to be fun, so I gave it a try and applied to a Japanese language school in Tokyo, Nippori. It's a lot more difficult than I originally thought! The grammar is the complete opposite of English and I'm struggling hard with memorizing kanji. I passed the N3 level exam of JLPT, so from now on I'm focusing on the next challenge: N2.
Do you have any plans for the future? Do you have a dream?  What kind of image do you have of your future self?
I'm already grateful for all the different kind of opportunities that I was lucky enough to get so far, but I would like to return to Japan to work for sure after I graduate my current school. First though, I will have to go back to Singapore to renew my visa.
10 years from now I see myself having a family. I'd like to have a stable job in order to live an easy, simple life. Plus, of course, it would be great to have some money to spare as well – everybody wants to be rich, right?
Why did you choose to work at Lawson and how did you find us?
My boyfriend introduced me to the company. When I came here, I couldn't really speak any Japanese, so it was difficult for me to find a job anywhere in the first place. At Lawson Staff, they teach you everything from the basics – not just the tasks during konbini work, but some useful Japanese expressions as well. I learnt some sonkeigo for the first time during the trainings!
What do you think about Japanese work culture? How is it different from your home country's?
I feel that Japanese tend to work very hard in order to satisfy the customer. Due to the high value placed on them, staff do whatever it takes to fulfill the desires of the clients. In Singapore, it's a lot different; there are limitations on how far staff are expected to go.
However, even though work can be difficult in Japan sometimes, employees are more rewarded in terms of payment. In Singapore, the minimum hourly wage is around 650¥, but if you are lucky or well-skilled, it can go up to 1,000¥. In Tokyo, 1,000¥ is average, and at Lawson Staff, you can earn even more than this amount.
What is your relationship like with your colleagues and bosses? How did they welcome you?
Everyone is always polite, co-operative and respectful. I'm explained everything about work thoroughly whichever store I go to.  Maybe I've just been unlucky or met shy people so far, but I haven't made any close friends during my time here as of yet. I sometimes speak to other employees who are close to me in age, but I'm the one usually initiating the conversation.
If there is a story or a memory you are fond of about any of the Lawson stores you have worked for so far, please share it with us.
There was a shift I did in a store in Ikebukuro where I had a lot of fun working with two other employees – they were Japanese high school students. Time passed by so quickly! Unfortunately, I didn't have matching shifts with them since. It would be nice to make friends with those two.
Would you recommend Lawson as a workplace to other international people, too?
Yes, definitely. If any of my friends from Singapore were to come to Japan, I would tell them to come work at Lawson Staff. All the teachers are extremely kind and they teach you everything from zero – the company invests a lot of time and money in you if you do your job well. Some other things I would probably highlight is having the complete freedom to choose when you want to work.
We are always welcoming more Heroes in our team. Want to join us?
Click the "Apply" button below!