Heroes of Lawson Staff
Heroes of Lawson Staff: Moon Seong Joon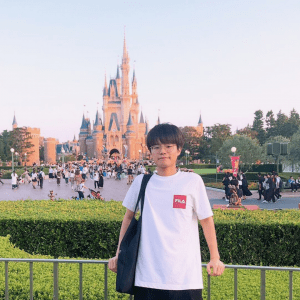 Please introduce yourself briefly.
My name is Moon Seong Joon and I'm 28 years old. I came from South Korea and studied in a Japanese language school for 1 year. I worked for Lawson Staff until September 2019 as a temporary staff member, for around 10 months. I'm planning to go home in November this year. My hobby is fishing.
What made you want to move to Japan?
Japanese was my very first foreign language I started studying in middle school. I graduated high school and university, also worked for a while for a company after, but I couldn't really use or improve my language abilities during that time period. However, I made up my mind to study more Japanese, so I consulted with my parents and looked for opportunities that would make it possible for me  to come to Japan. That's how I ended up in this Japanese language school in Tokyo.
Do you have any plans for the future? Do you have a dream?  What kind of image do you have of your future self?
Concerning my future, I hope to work for a good company. If possible, I would like to find a job where I can use the experiences I've gained in Japan and its service industry.
Why did you choose to work at Lawson and how did you find us?
When I came to Japan, I was worried that my Japanese was not enough to have a good job, and I wasn't really looking for work in the first place. After 2 months though, one of my Korean acquaintances kindly introduced me to Lawson Staff.

In the beginning, I didn't really have much of an image of the temporary staffing system. It also seemed highly inconvenient first that you don't have one exact workplace. However, after some time passed I had a few stores I started regularly going to, and I also got used to the different work locations. Actually, working as a temporary staff member has become a great experience for me overall.
What do you think about Japanese work culture? How is it different from your home country's?
In Japanese work culture, employees seem to be very diligent to me. There are convenience stores in Korea as well, though if there aren't any customers in the store, staff take things a little easy and sit down for a while. In Japan, konbini staff, or staff in the retail business in general are working hard even if there are no shoppers around.
What is your relationship like with your colleagues and bosses? How did they welcome you?
I felt welcomed and supported. I was always told "feel free to reach out in case you need help" by the store owners and the other staff members as well, not just the time when I had just made my debut, but even when I was considered an experienced staff member.

At first, I was too nervous and had no courage to speak to the people around me during work. After 3 months though, I got used to the job, and I was able to talk to others when the store wasn't busy. I made quite a few friends during my time at Lawson Staff.

I would like to express my gratitude especially to my colleagues whom I was working with all the time at one particular store in Bunkyo. I can't even count the number of times I went to work there. The owner and the manager have the warmest hearts, and with the help, guidance, and co-operation of the shop's staff I was able to improve many of my abilities.

The people in the operation center have also been unbelievably kind to me whenever I contacted them. When I called in sick for work, they have always worried about me and asked me about my well-being. I'm grateful for everything they did for me.
If there is a story or a memory you are fond of about any of the Lawson stores you have worked for so far, please share it with us.
I have many good memories about the store I mentioned before; I can't really choose one. The story that surprises all of my friends the most is the one about how I often drank some beer with the store manager after a busy shift.
Would you recommend Lawson Staff as a workplace to other international people, too?
Yes, for sure. They say that Japanese service is the best in the world – I agree with that statement. At Lawson Staff, you can learn many-many things about Japan's high quality service, and you can gain experience in the world of temporary staffing as well. There are many work locations, so when you decide to have a shift somewhere new, you can get to know new people, too. Also, the tasks in a convenience store are not difficult at all, so it's a good job opportunity for anyone in general.
We are always welcoming more Heroes in our team. Want to join us?
Click the "Apply" button below!